two grand
2005 THOROUGHBRED MARE
15.2 hands
Macho Uno x Grand Fan
JOCKEY CLUB Registered
Born in Kentucky, Tess was my first horse. After failing at the track (she finished near last in her only two races), Tess sat in a pasture for at least a year. A friend found her for me at a Keeneland sale in Kentucky, picked her up, gave her downtime and TLC, and put basic groundwork on her.
I bought Tess from my friend in January 2011 with the hopes of turning her into a local level hunter/jumper. I shipped her from Ohio to Amarillo, Texas, where I was working at the time, and then shortly after, shipped her to Houston when I moved home.
Tess checked every box of what I wanted – petite, bay Thoroughbred mare. But after two and a half years of hunter/jumper training, we determined Tess would much rather be in a western saddle.
I traded Tess for Sabra in June 2013. I lost track of Tess when the person I sold her to resold her, but last I heard, she was a broodmare. I hope she's safe and happy.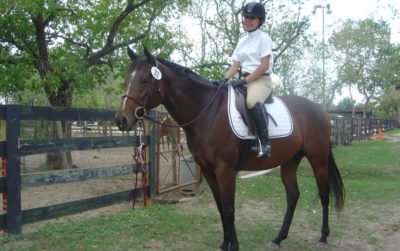 Dressage
Our first and only dressage show, where we did two intro level tests.
WESTERN
Tess much preferred being ridden in western tack.
HUNTER
At an in-barn schooling show, competing in hunter hack and hunter pleasure.