hot horse show days
This past weekend, we went to the Great Southwest Equestrian Center. I hadn't shown there since I did w/t/c in elementary school, and it was Sabra's first time there and her second GHHJA show. Yay for being the first division of the morning, boo for having to wake up at 5:15 a.m. and be there by 6:15 a.m. for a 7:30 a.m. start!
Our barn has a really fun group of riders right now, and we have a great show set-up, which makes the early mornings (and the rest of the day, for that matter) a lot easier. It was sooo flippin' hot, though. We pretty much melted, and Sabra went from white to a stormy gray as she was drenched in sweat. Sunday after I rode, I took off my helmet and my hair felt like I had taken a shower – it was that soaked.
Overall, we had a great show where I finally figured out my half-halts to keep Sabra from getting too strong, as well as prevent the head-tossing.
GHHJA | 2'3″ Schooling Hunter | GSWEC
Goals: Stay long and low in true hunter style. Stick with Sabra when she takes the long spot, and set her up for every lead and/or flying change. Ride to the corner.
Of course, Sabra schooled like a pro on Friday – no stops, was light in the bridle and calm as ever. Saturday, we totally screwed up our flat class; I overrode my inside rein and of course she missed both her leads. We somehow got 8th out of 16, which didn't make any sense at all, but we'll take it.
Over fences, we were much improved from our previous shows, but I struggled to move her out and stick with her when she took the long spot. It was much easier for me to do the adds and keep my position over fences, so we were inconsistent with getting the strides. Sabra can make the strides, despite being just shy of 15.3 hands, but we do have to leave long, which she's more than willing to do, but I need to re-learn how to stay with her. We didn't place in any of the over fences, but it was a great learning experience, and I was really happy that we'd improved so much since the last show.
Saturday 1st Round O/F: http://youtu.be/g6UFyLJ79Vo
Saturday 2nd Round O/F: http://youtu.be/g6UFyLJ79Vo
Saturday 3rd Round O/F: http://youtu.be/jqvKCu86zEQ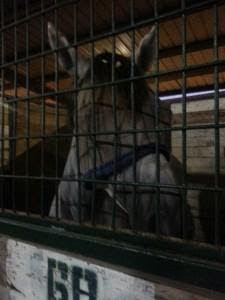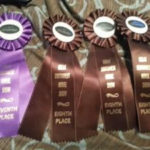 Sunday, we briefly flatted in the morning, then waited half an hour for the flat class. I was really pleased with our ride; she stayed in a pretty hunter frame the whole time. Unfortunately, we didn't place – it's hard to compete against fancy warmbloods! Still, I'd like to pretend my 8th place from Saturday was actually for my ride on Sunday.
We then waited another two hours to jump. Over fences, we got most of the distances and my position was 100% better. We had a sticky swap in our first round, which would've been clean if I had pulled my outside rein a little sooner and helped her re-balance a bit more. Our second round was our best one to date, and our third round was not as nice with missed lead changes. All in all, our rounds were much better than Saturday's, and we ended up placing in every o/f class: one 7th and two 8ths out of 14. Not bad!
Sunday 1st Round O/F: http://youtu.be/ne4BJmkux7s
Sunday 2nd Round O/F: http://youtu.be/odW83pCBRgo
Sunday 3rd Round O/F: http://youtu.be/fzfSBoyJBiA
Homework coming out of the show: Open up Sabra's stride and stay with her before, during and after when she takes the long spot. Work on clean flying changes and walk to canter transitions. Don't override my inside rein!